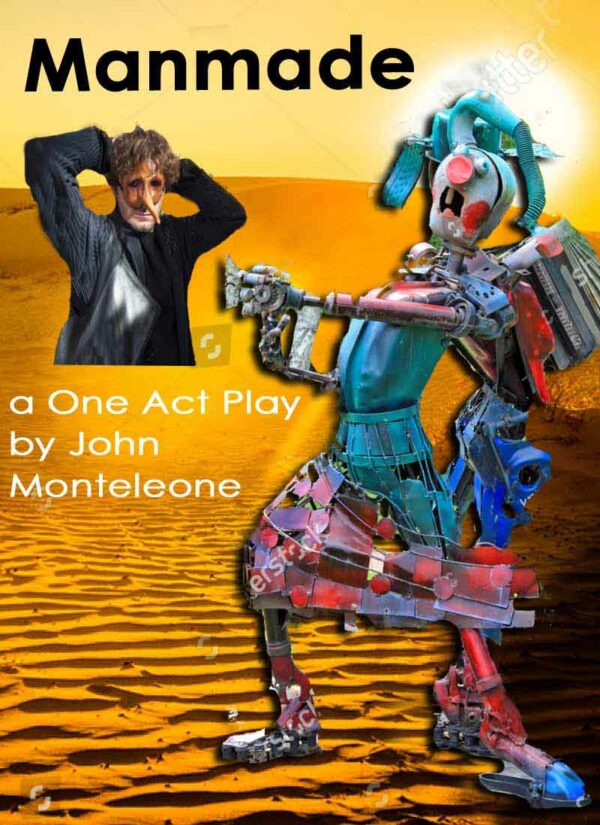 2 Characters
2 men or 2 women or 1 man and a woman
Simple Set
30 Pages
Two seemingly homeless men, hobos with PhD's, exist on the Mojave desert. As they explore the "air", and "ideas", and the meaning of meaning, the meaning of existence, to pass the time, and as they grow bored, they find junk laying about in the sand, they create a sculpture – a man, so they don't feel as alone. But as they build, it grows to be huge, and far bigger than they are…
Read Longer Synopsis
Subscribe
Join my Email list - I will send you updates on new work,
productions, music, etc. Cancel Anytime.
Legal Notice: These works are copyrighted multiple times, including several versions of each script, most dating back to the 1980's and 1990's as well as every one of them in 2020.  Downloading any of my work registers important digital identification information.  Scripts can be read, but if you want to use parts of them, or entire scripts for any reason, you will need a contract signed by me agreeing to it. Thanks for taking an interest.
To Obtain Rights to use my scripts please contact me and we will take it from there.  Thank you.