Perfectly Norm-iLL People (PNP)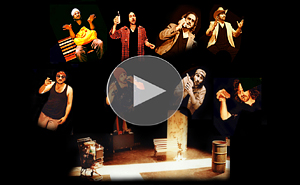 Coming Soon
Full 1 hour and 15 minute Video
of the actual theater performance
Want to be notified when it is click here
---
I am currently finishing compiling the monologues with stage directions into a PDF for download. If you want to be notified when that's done sign up above. Thanks.
---
CHARACTERS
Jim Cash – Things and Things
Homer – Homer's Odyssey
Homeless Man – That's Why!
Homeless Man – Democratic Convention
Joan – It's a Man's World
Porn Trafficker – Sodom & Gamoraha
Street Kid – I don't have a gun – yet!
Stargazer – We're Alllll Miracles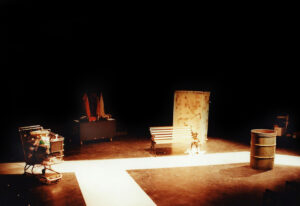 Perfectly Norm-iLL People is a satirical gallery of norm-iLL characters who meet the audience in New York City's Washington Square Park, face to face.
The script was edited and the production directed by Denise Wellborne. I produced and performed in the play for live audiences. The play exposes us to victims and their victimizers. Each, has a story to tell:
A Nuclear Arms Salesman preparing to con third-world countries into buying deadly weapons – "they've seen the shopping malls and they want to go with us"!
A Collection Agent attempting to collect from a man who's wife died and daughter committed suicide and who is bankrupt.
A Woman Libber who tells us of her journey from being a woman entering the business world and force to be more like a man to escape men.
Several Homeless Men (could be women) living on the outskirts of the city; a drunk who was thrown out of Madison Square Garden for the Democratic Convention, another man trying to figure out why it is what it is, and realizing it's about chewing, and Stargazer who has connected with the stars,and realizes how we're all miracles, and other characters as well.
Produced at Dowling College via my Professional Theater Company to standing ovations and rave reviews in the NY Times and The Suffolk County News (see below for excerpts, or homepage for PDF where you can read the full reviews.)
PNP can be done with props, or perhaps without them. The piece holds a lot of humor but the subject matter is serious and requires digging deep into the psyche and world of these very odd, but real human beings who have ended up in this garden.
I have other monologues that were not used in this piece that I may add – I am still considering if I want to do this or not.
---
NEWSDAY
"BRAVURA PERFORMANCE… Monteleone demonstrates a convincing range in evoking 10 different characters" (in 'in Perfectly Norm-iLL People".)
Steve Parks
SUFFOLK COUNTY NEWS
"SPELLBINDING….
'in Perfectly Norm-iLL People," his second solo, Monteleone slips with ease from one character to another with an original or hysterical line to draw you in."
Click image to read full PDF Review.
Legal Notice: These works are copyrighted multiple times, including several versions of each script, most dating back to the 1980's and 1990's as well as every one of them in 2020.  Downloading any of my work registers important digital identification information.  Scripts can be read, but if you want to use parts of them, or entire scripts for any reason, you will need a contract signed by me agreeing to it. Thanks for taking an interest.
To Obtain Rights to use my scripts please contact me and we will take it from there.  Thank you.