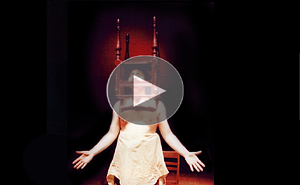 Coming Soon
Full 1 hour and 15 minute Video
of the actual theater performance
Want to be notified when it is click here
---
I AM CURRENTLY (as of June 24th, 2020) completing reformatting both scripts. The 1 hr. & 15 min. script and 2 hour version. Sign up above to be notified when it's added into the site for download. Thanks.
---
Diary of a Madman examines the result of living without dignity and love. It is a classic theme, written in 1830 by Nikolai Gogol in Russia. We adapted this to the stage, using simple set pieces that transformed into other locations quickly and creatively. The common, lovely man slowly descends into madness as he is thrust about by indifference and arrogance. We watch the thought process, both funny, and terrifying, taking a human being from sanity, into the insane. Take a look out your window. He's there. Or maybe, your mirror!
The text is available with our production notes and staging directions but of course you can find your own creative ideas. The full-length video has some sound issues – but legible as it was done with 3/4 inch video, and a boom mic. Dowling was too cheap and detached as an academic institution to consider this an important event. So I paid for it myself and we were on a budget. But it's good enough for anyone to enjoy, and for artists' considering the piece, a good idea of how it plays out.
The original text and stage directions were developed over 6 months in readings and rehearsals, then months of performance both in Suburbia for both a local audience and an academic one, at our theater in residence at Dowling College and then on Theater Row in NYC.
Audiences of every level and kind enjoyed this piece often receiving standing ovations. It's really that universal and powerful. I was amazed, but that's how it played out.
We took a small set, a few set pieces, and turned them into various props and environments as he travels through the myriad of locations – from his room in his mother's home, to a mental institution in Spain. It's a simple construct for a complex piece.
I also have the slides that can be used for the dates – these are jpgs, which would have to be printed, then shot as a slide to be projected.
Royalties for use of the script vary depending on what venue you are planning on performing it in. Contact me and let me know – I'll give you pricing.
The download only gives you rights to read this script – not use it. Please honor that. A production requires purchasing scripts for each person using one, and the jpgs if you want them. Then royalties per performance of course.
---
"Powerful Performance in "Diary of a Mad Man – Mr. Monteleone meets the almost impossible task of portraying a demented man who is sinking into the quagmire of hopeless melancholia by finding out elements of humor that fit like pegs between layers of tragedy."
Leah D. Frank
The New York Times
"Monteleone keeps faith with the Gogol story, testing the conscience of his audience. the sicker his madman becomes, the funnier his lines. And laughing at him becomes a little sick, too. But it can't be helped. Monteleone is both funny and pathetic as the madman."
Steve Parks
Newsday
"Your performance was certainly excellent!" (in Diary of a Madman)
Nancy Bosco
Circle In The Square Theater
"Congratulations on a most powerful performance." (in Diary of a Madman)
Olivia Kim
PBS
Click image to read full PDF Review.
Legal Notice: These works are copyrighted multiple times, including several versions of each script, most dating back to the 1980's and 1990's as well as every one of them in 2020.  Downloading any of my work registers important digital identification information.  Scripts can be read, but if you want to use parts of them, or entire scripts for any reason, you will need a contract signed by me agreeing to it. Thanks for taking an interest.
To Obtain Rights to use my scripts please contact me and we will take it from there.  Thank you.