SOLO PERFORMANCE PIECE
Adapted for the stage by John Monteleone
who also performed the piece on Theater Row in NYC.
1 Actor
Simple set
1 hour & 15 minutes
This classic piece written in 1830 by Nikolai Gogol, is as relevant today as it was then in Russia.. Diary of a Madman chronicles the decent into madness and examines the result of a simple man trying to find dignity and love in an indifferent society.
Read Longer Synopsis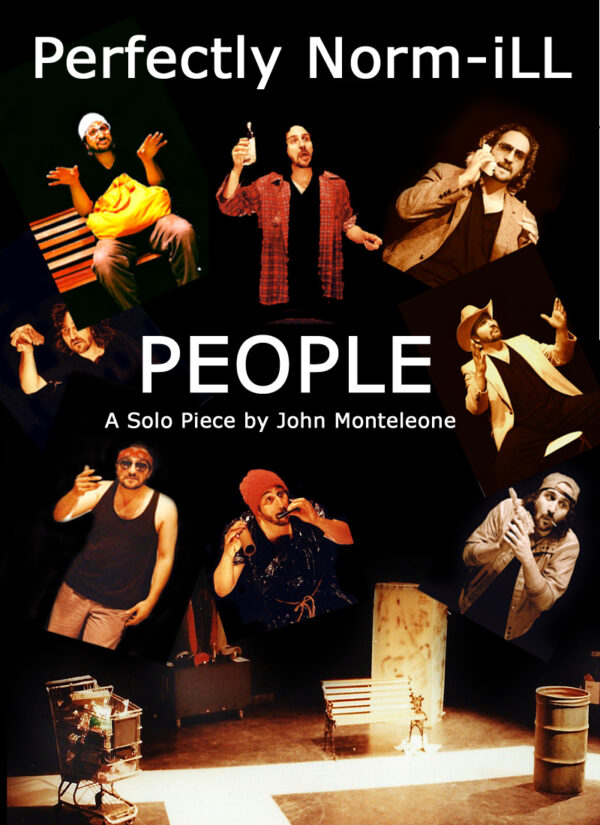 SOLO PERFORMANCE PIECE
Original written and performed by John Monteleone
1 Actor or Ensemble of 2, 4 or 8
2 hours (approx.)
Simple Set.
Royalties include Audio created for this piece, sounds of Central Park that support each piece, and music.
Perfect for a college production. A satirical gallery of norm-iLL characters meet the audience in New York City's Washington Square Park, face to face.
Read Longer Synopsis
Downloading scripts to read is fine and I thank you.
Legal Notice: These works are copyrighted multiple times, including several versions of each script, most dating back to the 1980's and 1990's as well as every one of them in 2020. Plays are also registered with the Dramatist Guild, and Screenplays registered with the The Writers Guild of America, East (WGAE.)
Warning to Thieves:  Downloading any of my work registers important digital identification information based on the latest retrieval software such as your email address, your IP address and more.  Using scripts without my written permission is illegal, and breaks Copyright Law.  Please do not steal parts of, or entire scripts, or use them for student or other productions without a contract signed by John Monteleone, giving you permission.
To Obtain Rights to use my scripts please contact me and we will take it from there.  Thank you.